All Seasons Bokashi™
---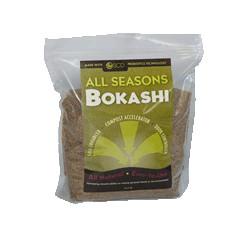 Bokashi is an all-natural compost starter which can be used in conjunction with the All Seasons Indoor Composter® to conveniently recycle food waste right in your kitchen. Bokashi can also be used to control unwanted odors in your home. First developed by ancient Japanese farmers, the recipe has been passed down through the centuries.

Available in 1 gallon bags.

Ingredients:
Wheat Bran, Rice Bran, Purified and Structured Water, Sugar Cane Blackstrap Molasses, Mineral Rock Salt. May contain wood shavings.

Storage:
Keep closed in an air-tight bag.

Price: Check with your favorite online or local retailer for pricing information.