All Seasons Bokashi™
---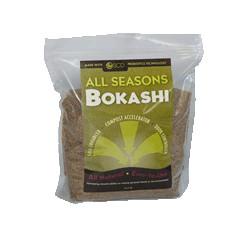 Bokashi is a Japanese word that means "fermented organic matter." It is an all-natural, easy-to-use, compost accelerator. Using proprietary SCD Probiotics technology and the power of beneficial microorganisms, it also controls odors normally associated with decaying food.

Available in 1 gallon bags.

Ingredients:
Wheat Bran, Rice Bran, Purified and Structured Water, Sugar Cane Blackstrap Molasses, Mineral Rock Salt, SCD Probiotics Technology. May contain wood shavings.

Storage:
Keep closed in an air-tight bag.

Price: Check with your favorite online or local retailer for pricing information.