ProKlean All Purpose Kleaner
ProKlean All-Purpose Kleaner is an all natural, chemical-free cleaning concentrate containing proprietary probiotics to break down dirt and grime. Can be used on any washable surface; from windows to walls, to floors to sinks, from pots and pans to tiled surfaces. Use diluted on carpet stains. No residue and no need to rinse after cleaning surface that may come into contact with food. ProKlean All-Purpose Kleaner leaves a streak free shine without the use of harmful chemicals. Not recommended for use on marble or unsealed wood. Test on fabric in a discrete location prior to application.
Available Size: 16.9 oz.
ProKlean DeGreaser
Probiotic Grease Cleaning Concentrate
ProKlean DeGreaser is a heavy duty degreaser and cleaner. It removes grease and grime with no harmful chemicals. ProKlean DeGreaser is safe and effective for use on stove tops, ovens and hoods as well as other areas where heavy grease builds up. ProKlean DeGreaser can be poured directly into drains and grease traps as routine maintenance.

Available Size: 16.9 oz.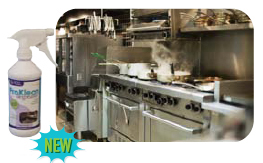 SCD Probiotics
1710 Walnut Street
Kansas City, MO 64108 USA
www.SCDProbiotics.com
Copyright © 2018 Sustainable Community Development, LLC